ESOL Teacher Must Haves
ESOL Teacher Must Haves

10 ESOL Teacher Must Haves
As an ESOL teacher I worked with students in a variety of settings. Here are my 10 ESOL teacher must haves that I have found to be valuable tools for working with students in a wide range of ages and levels.
Disclosure: This post contains Amazon affiliate links, which means I may receive a commission if you click on an Amazon link and make a purchase. This does not cost you any extra money.
Teaching Materials 
Tabletop Pocket Chart– This is helpful for working with small groups of students. You can display word sorts or sentence strips.
Dry Erase Boards– Great for small group or individual student work. I have found that students love using dry erase markers. Having a lined side and blank side makes these boards helpful for different ages of students. One way to use them is to ask a question and have each student write down an answer. They everyone shows their response. This way all students have a chance to answer but in a low pressure way. Students can then make corrections and erase for the next question.
Dry Erase Pocket Sleeves– Again kids love using dry erase markers. There are helpful for student practice in centers. Also as an ESOL teacher working with multiple groups I would print out one example and put it into one of the sleeves. Then I could model the assignment and not have to make multiple example copies.
Thin Dry Erase Markers– When working with small groups, these markers were helpful to fill in worksheets as examples. I could often get the thicker dry erase markers from my school which were better for student use on dry erase boards.
Sticky Notes– These are great for keeping students engaged. The fact that you can reposition them make them great for planning a story.  Another idea is to have students write ideas and then sort the sticky notes into categories.

Crayons– From color coding text to drawing illustrations for vocabulary words and stories crayons are essential for language learners.
Classroom Library
No matter how you are seeing students (small groups, co-teaching, pull out, ext.) Having easy access to a wide range of diverse books and many levels is essential. The more that students read, the more vocabulary they will be exposed to and the likelihood that their reading and English levels will go up increases. I let students borrow books when I took them for pull out groups. I would bring books with me when I went into their classroom. When I was looking for a read aloud my classroom library was often the first place that I looked.
Language Games
There are many language topics that I felt that students needed more practice with. I also frequently found that there were some students that would finish an activity early and there would be only a few minutes remaining with our time together. Games were a great solution!
Lakeshore English Language Learner Games -A set of games to practice a variety of language skills. Easy to set up and fun for students to play.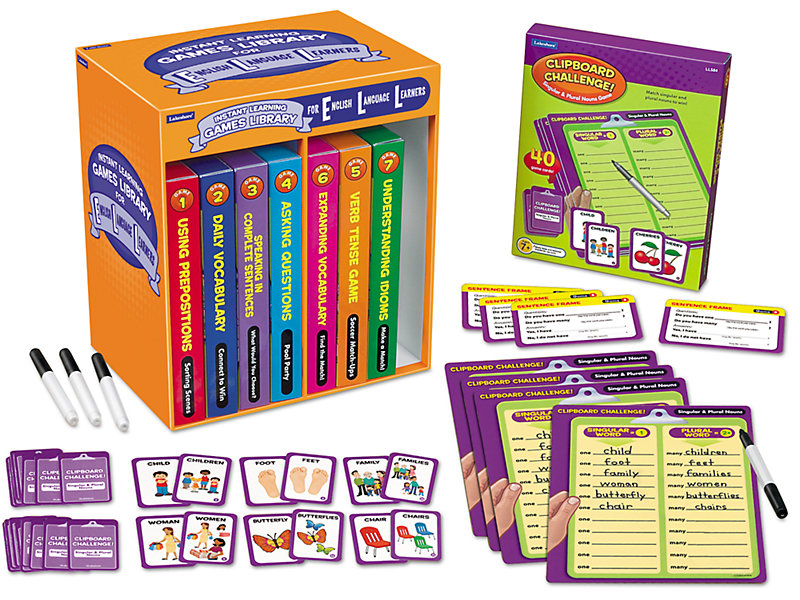 File folder games– I created file folder games to target specific language skills. This way all of the materials is prepared and kept in one place when I want students to practice/review that skill.
Task Cards– Another fun way to practice a specific skill through games, with a partner, in a center, using a recording sheet.