Winter Teaching Ideas for MLs
Winter Teaching Ideas for MLs
Winter is a season that is full of new vocabulary to teach beginning ELLs. Snow is a fun topic no matter if you get many feet each year or if a flurry is a rare occurrence.  Discover winter teaching ideas.
Teach About Winter Weather
For young students, each new season is a good time to study how weather changes and how animals adapt to the weather. If you have newcomers and live in an area that has cold or snowy winters then some students may not know what to expect.
Winter information books and passages– 3 levels of books or passages for each winter topic.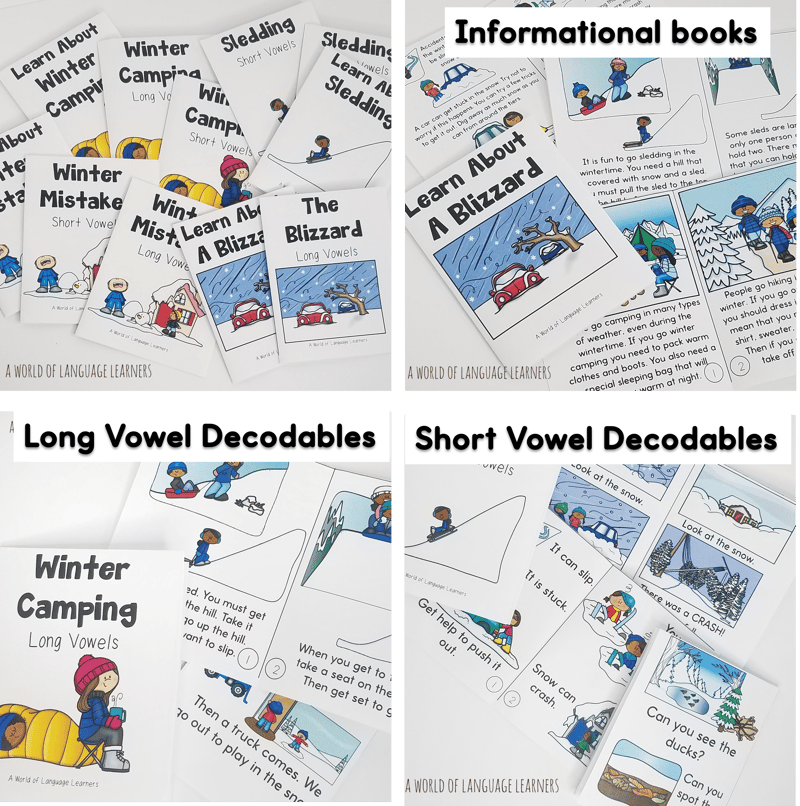 Winter weather- Ready.gov Facts about winter weather.
All About Snow Emergent Reader and Decodable Book
Winter Science Experiments
Science experiments are a hands-on way to help students use descriptive vocabulary. They also give all students a shared experience to talk about. Depending on how much time you have with students you can give the materials to complete the experiment in a small group or set up a demonstration where they watch you complete the experiment. Try starting an experiment at the start of class and then checking on to observe the changes at the end. Here are some simple winter themed ideas to set up with your students no matter what the weather is like where you live.
Read Winter Themed Books
You can use winter themed books for read alouds/mentor texts or highlight a section in your classroom library for students to read.
Winter Articles
Winter Solstice- National Geographic Kids
Winter Solstice: The First Day of Winter- Almanac
Strategies for Communicating with ELL Families During the Winter – Colorin Colorado
Integrate Winter Themes into Your Content
Here are some ready-made winter teaching materials you can use with your ELLs.
Picture Writing Prompt Task Cards Winter
Looking for winter writing prompts? Each photograph on these task cards is about a winter topic. There are three levels, with writing prompts, sentence frames, and a word bank. The writing prompts come in both a print and digital format.
Winter Would You Rather Print and Digital
Use print or digital winter themed would you rather task cards to help students talk and write about their opinion.
Winter Parts of Speech Color by Code
Practice parts of speech with these winter themed color by code sheets. They come with illustrated vocabulary sheets which can also be used for speaking or writing about spring topics.
Winter Picture Matching
Help early readers practice matching words and sentences using winter-themed sentences and vocabulary.
Context Clue Task Cards Winter
Practice using context clues with these winter-themed task cards. Each card has a simple sentence and a focus word.
Winter Bundle for MLs
Save on a set of winter-themed teaching materials and activities to use with your Multilingual Learners.